Times are tough and we're here to help
04 January 2023 Reading time: 5 minutes
It's been a challenging few years for businesses given the Covid-19 pandemic and, more recently, the emerging cost of living crisis. If you're worried about paying your water bills, we want you to know that we're here to help.
We've listed some of the ways we can support you and your business in this article, and provided links to our useful online resources that you can access at any time.
1. Financial support
If you're having any concerns about making payments, we offer a wide range of flexible payment options - including payment plans. Payment plans spread the cost of what's owed over time, to help make payments more manageable. We'll work with you to find a solution that best suits you and your business. To get in touch, please contact our dedicated, expert team on 0330 123 2002 and speak to one of our friendly advisers.
Did you know… some water retailers will charge up to two months in advance, but this isn't our approach. That's why, when choosing your water retailer, it's important to take time to understand when and how you'll be charged so you can avoid having to pay up front, unnecessarily.
2. Help to reduce your water bills

At Business Stream, we're passionate about the benefits of saving water. That's why we're committed to helping our customers save up to 20% on their water usage

Using less water will reduce your costs and you'll be doing your bit for the environment too. We've listed some of the ways we can support you below.

We provide a quick step-by-step plan to help reduce your water usage including tracking your consumption by regularly reviewing your bills and checking for leaks. Doing this means you'll have a better understanding of how much water you're using across your business and you'll be able to spot any unusual spikes in your water consumption.
We offer effective and really affordable water saving devices on our online shop like cistern hippos and tap aerators that will help to reduce your water use.
We provide free online water efficiency tools and resources, including our step-by-step leak detection tips, our Savings Spotter Guide and a colleague presentation, quiz and workplace posters that will encourage your employees to use water wisely.
It's always useful to understand your water use so you can identify ways to make savings. For further support, please get in touch with us on 0330 123 2000.
3. Help to reduce your energy bills too

Water plays a critical role in the running of many businesses and organisations and every time water is heated, it has an impact on energy use. Finding ways to use less heated water means businesses won't just see their water bills come down, but their energy bills too. It will also help to generate environmental efficiencies as the energy used to heat water impacts emissions.
There are steps you can take to reduce the amount of hot water you use to reduce your energy costs, including:
using water efficient appliances that have energy efficient settings
turning off water heaters when your premises is out of use for example, during holidays and at weekends
ensuring your water pipes are insulated to avoid losing excess heat
Look out for our next blog which focuses more on reducing your water use to lower your energy bills. As well as reducing your energy bills by using less hot water, you'll also positively impact your carbon footprint as these changes will help to lower your business' emissions.
4. Other ways we're helping
We're committed to working with our partners and stakeholders to develop campaigns and initiatives aimed at supporting businesses.
We're working with industry and policy stakeholders to identify wider measures that the water industry can introduce to help businesses use less water. In addition to being members of the Retailer-Wholesaler Group, which was set up by Defra, the Department for Environment, Food and Rural Affairs, and Ofwat, the Water Services Regulation Authority, we were also the first water retailer to partner with Waterwise, the UK's leading NGO on water efficiency and conservation, to support their goal of helping everyone – households and businesses – to save water. As part of this partnership we have been involved in the development of their UK water efficiency strategy, outlining the steps we can take to help ensure water efficiency is prioritised, enabling businesses to benefit from financial and environmental savings.
We've partnered with Business in the Community (BiTC), the UK's largest membership organisation focused on supporting responsible business. They've recently launched a campaign to help businesses support their colleagues, customers and suppliers during this difficult period, which we're supporting. As part of this campaign, BiTC have recently launched a useful cost of living toolkit with lots of helpful information that you may find useful.
You can count on us
We're committed to our vision of making a positive difference to our customers, our people, the environment and our local communities. As a responsible business, we recognise that we have an important role to play in helping all of our customers to achieve both financial and environmental savings.
In the past year alone, we've saved our customers: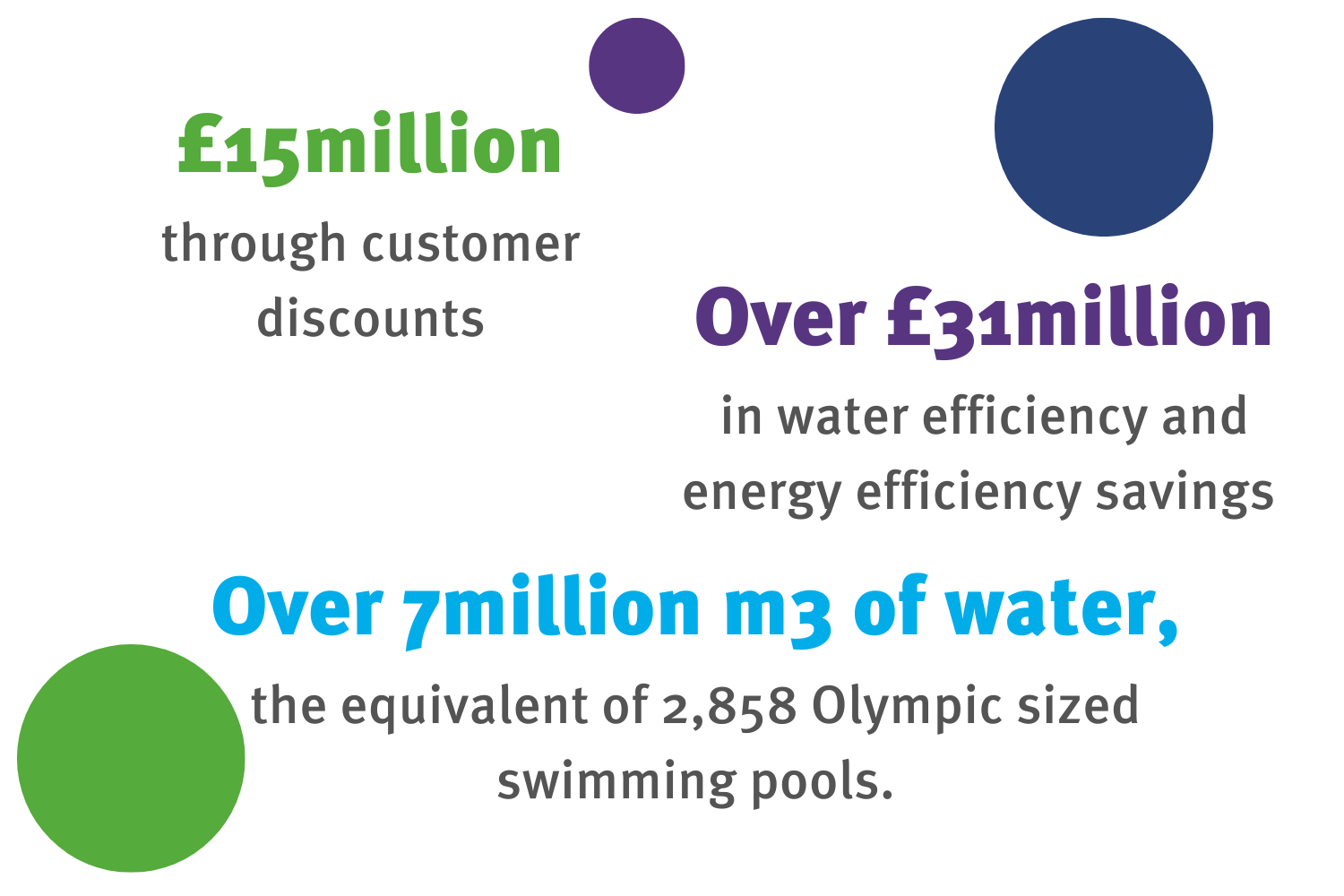 We appreciate that times are tough and water is just one cost of many, but we're committed to working with you to help make managing your costs easier. We'll always be a friendly voice on the end of the phone so please get in touch if you have any concerns or would like our support during this period.